Back to the fictional ride in Europe, we are south of Madrid in the southern half of Spain. Yesterday we made three summits on our way to Guadalupe. The first one was Puerto de Arrebatacapas.
We reached the second and highest summit on a really narrow road. Signs indicated a path to a nearby observation deck. The hike was tempting but we wanted to be sure we had enough time to visit the monastery in Guadalupe, our day's destination.
A weather station graced the third summit.
Guadalupe's enormous monastery is called the Royal Monastery of Santa María de Guadalupe.

It is famous for its Black Virgin Mary.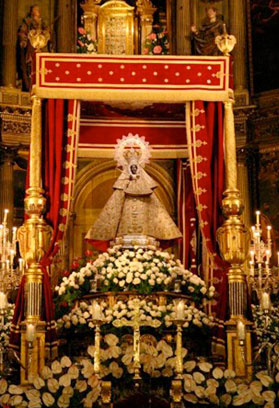 This morning we continued on from Guadalupe. Halfway through the day we went out onto the dam that created an enormous reservoir.
It's shocking how much water can be stored in these reservoirs and yet how parched the land looks. Though huge, their water levels are low. The nearby Valdecanas Reservoir, upon its creation in 1963, inundated a Spanish Stonehenge. In 2019 and again this year, the water level is so low that the 7000 year old monument is visible again. Archeologists are delighted but water managers and farmers are not.
© 2022 Lynnea C Salvo